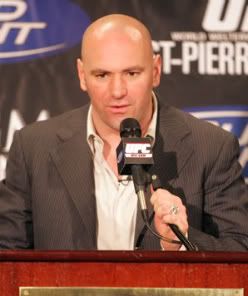 This week the UFC made two smart business moves that are aimed at maintaining their success as the main Mixed Martial Arts league and at growing that business to reach new heights. The first thing they did was provide health insurance for all of the fighters under contract with the UFC and their other brand, Strikeforce. This coverage protects fighters outside of the octagon and will allow them to not worry about training hard in fear that an injury will be difficult to treat in the best possible way. The second thing they did was start a Twitter challenge for all the fighters on the UFC and Strikeforce roster in order to connect fighters with fans to help promote the shows.
The insurance coverage for all the fighters is smart because it will make the fighters less eager to try and form a union like the players have in the NBA, NFL and other top sports leagues in North America. This is just plain good business. Whether it will eliminate the risk of a union forming among the athletes is probably wishful thinking on the UFC's part, but it could certainly delay it. Eventually I think the athletes will form a union and there isn't much the UFC can do except try to be a big enough company when it happens so that they can better handle it.
The Twitter challenge is also a great business move. UFC President, Dana White uses Twitter a lot to connect with his fans directly. He understands that today fans want to have a closer relationship with their favourite athletes and Twitter is the perfect way to do it. For the business, Twitter acts a free marketing tool where the athletes will both build their individual brand which is owned by the UFC and also promotes their upcoming fights which are UFC events. This is a very simple yet, very smart idea that the UFC is implementing.
As the UFC continues to grow, smart business moves like these will help make for a solid foundation of a well run company. These are lessons that any business can learn from more generally.