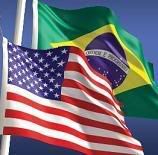 U.S. President Barack Obama was in Brazil this weekend in the first leg of his first visit to several Latin American countries. Not many people are talking about the actual purpose and outcomes from this trip because of the military action that is going on in Libya. This trip is intended to boost economic trade and relations between the U.S. and Brazil, among other nations in the region. Ironically, although Libya is taking the attention away from this trip, the visit to Brazil can have a larger impact to North America and much of the world for the long term.
During the visit to Brazil, the two countries signed an economic cooperation agreement that seeks to increase trade and reduce non-tariff trade barriers. This is usually the first step to having a free trade agreement. It is very important that these two countries increase their trade and improve their relations with one another. Brazil is one of the leading emerging markets in the world. It is also the second largest economy in the Americas, even slightly ahead of Canada. In addition, it is a nation with important natural resources and it is growing in global clout as its economy develops. With that said, relations with the U.S. have not been that great historically. However, recently Brazil elected a new President that is more pro-West. This combined with President Obama's global appeal and his position of wanting to both double U.S. exports by 2015 and increase ties with Latin America have led to this important opportunity.
Growing U.S. exports is important not only to U.S. economic growth and stability, but the entire western world's. The U.S. and the free world needs Brazil on their side, especially with the rise of China which is not always friendly to the west. Hopefully Brazil will continue on this new path of stronger ties with the U.S. because the entire hemisphere will profit from it.