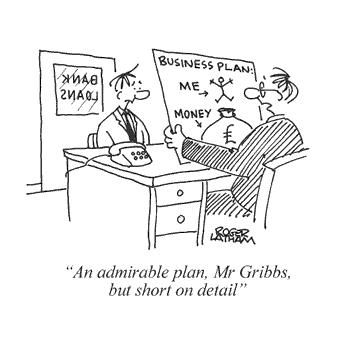 If you are thinking about starting a new business then this post is for you. Regardless whether you are new to business or a seasoned professional starting your 20th venture, a business plan is an important, yet often overlooked part of the start-up process. Although they teach business plan writing a lot in business school, often times when students enter the real world and start their own business they tend to not actually write one for their own new business. For those which business has been a part of their life and feel that it comes naturally to them, this bad habit is even more pronounced. However, even for those individuals (and yes, I am one of them), writing a business plan for a new business is important for optimizing your chance for success.
Even though may think that you have every detail thought through and figured out, you don't. When you write the business plan the parts that you did not fully think through will become apparent. This happens 100% of the time for everyone that writes a business plan. In addition, it will allow you to tweak the idea more easily and will show you on paper how sound the idea is. Writing a business plan is also important because it gives you a different perspective on your business idea. It is a complete picture of the business and will remind you exactly what you need to focus on. This is a very important aspect for success in business.
The financial portion of the business plan is usually the most difficult, but it is also one of the most important parts of it. Perhaps more than any other part of the plan, the financial portion will tell you if your idea has a real shot at success. If it doesn't then you need to rethink the idea and then put it in the financial portion again to see if it makes sense. If you are not great with financials, get help. In fact, you can get help on the whole business plan writing by simply Googling it. However, the financials are very important and you should have an accountant or a trusted business advisor look over your numbers.
Not writing a business plan before you start a business will not kill your chance for success. However, writing one will improve your chances for success and you should always do it.