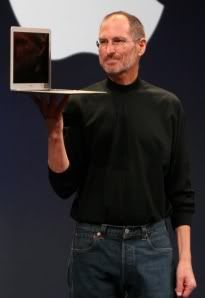 Apple has made a lot of news this week and it's only Wednesday. First CEO, Steve Jobs said on Monday that he once again has to take a leave of absence to deal with his health. Then yesterday, the consumer electronics company released its quarterly results and they were very impressive. Their sales and profit blew past expectations and somewhat calmed people's nerves from the Steve Jobs news a day before.
All this raises questions about the future of Apple. The present is clearly dominated by Apple. However, if Steve Jobs leaves the company due to health issues then a few years later it is unclear that the company will still be able to succeed as much as they have. Some are already comparing Apple to Sony from the 90′s. In the 90′s Sony was considered the best consumer electronics company. They were extremely successful and beat all their competitors. However, they failed to stay ahead of emerging technologies and their brand name lost some of its luster. If you recall in the 90′s, the best TV's and other electronics were Sony products. Today Sony is still good, but not considered better than a bunch of other brands.
It is quite possible that Apple will have a similar future. Without Steve Jobs at the helm, who is widely regarded as a genius in the industry, the future of Apple may not be as successful as the present. Also, it is hard to maintain the levels of success that they are achieving right now. Usually, success at such a high level does not last much longer than ten years or so. We will see over the next 3-5 years if Apple will end up like Sony and other companies before it or if they will manage to stay at the top for longer.