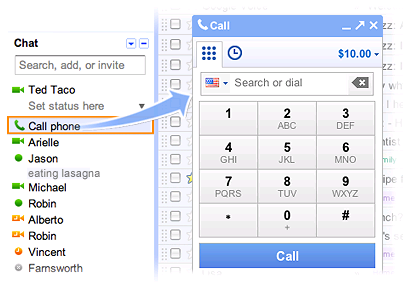 This past week Google launched a new feature for Gmail users. It gives the user the ability to place telephone calls. It is launching this program gradually throughout the world and began with the U.S. and Canada. For now at least, the rates for calling are very competitive compared to any local or long distance plans. Google says that at least until the end of this year calling between Canada and the U.S. is free.
I have already tried this new phone a few times this past week and I can say that compared to the big phone companies and the main competitor to it, Skype, the quality of this new Google phone is good. Hopefully it will continue to be free between Canada and the U.S. permanently, but that remains to be seen at the end of the year. In fairness to Skype, I did not try the Google phone with video which you can do because I called cell phones and landlines so there was no point. I am eager to try out the video on it to make a fair comparison with Skype.
I use Skype on occasion for video chats, but I am usually a little disappointed with the quality and I would easily switch if another company offered a better quality one for free or for a small monthly/yearly fee. I also looked at Google's rates for international calls and they seem to be competitive there as well. Depending on how serious Google is with this program, they can make this become a serious threat to the big phone companies.
They would need to make it easier for people to use, like have some sort of hardware (telephone) that they sell everywhere that will make for easy connection and use. They would likely partner up with another company to do this although, they certainly have the cash to do it alone. If they offered unlimited calling between Canada and the U.S. for say $5 a month, at that point many people would begin to switch even though there is already cheaper competition out there (Magic Jack). They would also have to maintain lower international rates than the big guys, but they can probably do that with no problems.
Many people would love to be able to untangle themselves from the big phone companies that no one likes and still receive the same services for much less money. This could be a major blow to a dwindling sector of telecom which is the traditional landline phone. Hopefully Google continues to develop this and in the right way.