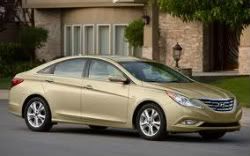 Most people don't even think about this when they are leasing a new car. However, at some point during a three or four year lease there is a very good chance that you will need to put your car in for service due to an issue covered in the warranty. Over the course of 36-48 months of consistent driving, even the best quality cars will likely have something go wrong and since it is covered by the bumper-to-bumper warranty, you go in to the dealership to get it fixed. When this happens, the dealership first likes to offer a shuttle service. You should never accept this. It is greatly limiting to need a ride home or to work.
Unfortunately, some auto manufacturers do not offer loaner or rental cars while your car is being repaired under a warranty issue. I know that Hyundai Canada is one of those companies. There are two warranty related issues that you should never do when leasing a car. The first is to never take on a lease that includes any time not covered by a warranty. If you take a four year lease, make sure the bumper-to-bumper warranty is also for at least four years. If not, either extend the warranty or lease a different vehicle.
The second thing you should never do is lease a car from a company that does not explicitly say that they will give you a loaner car in the event your car needs service covered in the warranty. Never accept their bushleague shuttle service. Never. If the company does not say you will have a loaner or rental car, lease your car from a different company.  Do not let the sales person talk you into leasing a car without an explicit agreement on a rental/loaner no matter what. You'll thank me when the inevitable happens.