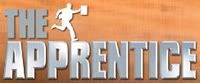 The newest edition of NBC's The Apprentice just wrapped up a few days ago and Donald Trump selected Brandy Kuentzel as the winner. It was her versus Clint Robertson in the finals and for those that didn't watch this season of the show, it was one of the best editions since the show began in 2003. The overall quality of the contestants was high and that was likely as a result of a very big talent pool to choose from due to the high unemployment rate in the U.S.
From the start of the season, it was clear that the two finalists were two of the best contestants on the show. As the weeks went on, both Brandy and Clint began to separate themselves from the rest of the pack. It was also obvious that Donald Trump took a liking to Brandy, partly because of her looks (something he does often on the show). Going in to the finals, I felt that Brandy had a small edge on Clint based on what I felt Trump thought about the two contestants. He definitely liked both of them and thought they were both capable had a bright future ahead of them. I also thought it was close between the two, but that Brandy would have to do poorly in the finals to lose.
Brandy will now be working in the Trump organization and although they did not mention what Clint will do now, it is obvious that he will have a great opportunity to succeed whether it is as an employee or as an entrepreneur. I believe that both of these contestants will be very successful in their careers and appearing on The Apprentice will be like winning the lottery for them when they look back at it. 
A lot of times on the show (not including the celebrity editions), there are a bunch of useless and talent less contestants. Actually, this season was no different in that respect and I could easily name several contestants from this season that are rather worthless to the business world. However, there are a good 4-5 contestants this season that have shown that they have a lot of potential in business and they too, will see their appearance on the show as somewhat of a winning lottery ticket.