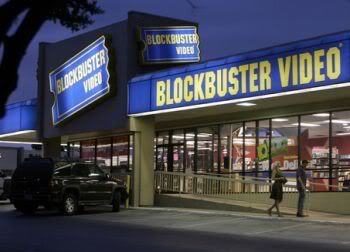 It was inevitable and only a matter of time. Blockbuster Inc. is declaring for Chapter 11 bankruptcy in the U.S. Interestingly enough, the news comes out on the same day that online movie rental service, Netflix launched their service in Canada.
Companies like Netflix, as well as, others such as Apple's iTunes and Video on Demand from large cable companies are the major reasons why Blockbuster is hurting. They have been slow to change their business from a brick and mortar operation to an online setup. They had a chance to be ahead of the competitors before most of them even entered the market, but decided to stick with their physical stores which are now closing by the dozen.
It doesn't take a genius to figure out that having physical stores to rent movies and games is the way of the past and have no real future. Blockbuster should speed up their transition to an online business if they want any chance to survive the next 5 years. For some reason though, it doesn't seem like they fully get it yet. There is no reason why they should be lagging in online movie rentals. With their experience, size and customer base they should be leading the way in this space. Unfortunately, they are slow to move and are not utilizing the best technologies and marketing strategies to match their brand equity and other resources.
If they don't speed up this transition in the near term, they will go the way of the dodo bird.